BC Clean Energy Jobs Study (2012)
Overview
This project was commissioned to explore the rural business and employment opportunities associated with the clean energy and Independent Power Producer (IPP) sector in British Columbia. The study is a component of the larger "Green Energy as a Rural Economic Development Tool" project.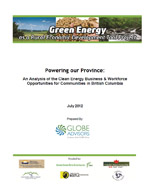 Research for this project included interviews with a representative sample of IPPs and clean energy technology companies in BC in order to identify:
The current demand for business services that could be provided by rural BC communities and to investigate the potential future business needs required to support growth and diversification of the clean energy sector in the province.
The current workforce opportunities, challenges, and needs within the clean energy sector in BC.
Key Findings
This report identifies five immediate business and employment opportunity areas for rural communities related to clean energy development. These are:
Skilled trades and construction;
Community and First Nations engagement;
Scientific and environmental monitoring;
Plant operations and maintenance; and
Indirect business support.
The research carried out in support of this report points to a number of clean energy opportunities for communities throughout the province. But it would be wrong to assume that these opportunities can be realized without an active and strategic approach. Key barriers faced by more rural communities include the lack of built infrastructure, difficulties accessing advanced education and skills training, and a shortage in capacity for skilled workers, due in part to competition and labour demand from out-of-province and urban centers.
Greater certainty and transparency in the public policy landscape, more favourable market conditions, and the need to increase clean energy knowledge and capacity building are critical factors to furthering clean energy sector growth in BC. Rural communities can work to develop enabling strategies based on local economic models that could include developing regional business service networks and labour/ skills inventories, as well as rural education and skills-based training frameworks.
BC Clean Energy Jobs Study (2015) Download