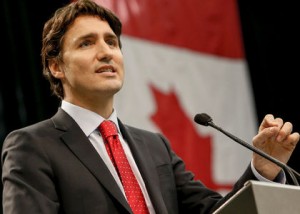 Vancouver, March 1, 2016 – A group of influential Canadians are launching a new initiative—Smart Prosperity—to help accelerate Canada's transition to a clean economy.
The Smart Prosperity coalition includes 26 of Canada's most respected leaders from diverse business sectors (including resources and clean tech), labour organizations, think tanks, Indigenous peoples, youth, and environmental groups.
The diverse group is calling for swift action to build a stronger, cleaner, and more innovative economy, lest Canada lose economic opportunities that are rising in a rapidly changing global environment.
The first Smart Prosperity report draws on international and Canadian evidence, making the case that all sectors of Canada's economy will profit from clean innovation—from traditional resource development and manufacturing to emerging clean tech fields.
The report outlines a road map for significantly boosting both Canada's competitiveness and environmental performance over the next decade, positioning Canada to be a global leader in clean innovation across every sector within a generation. According to the study, a suite of policies is needed to unleash public investments and private initiative to create wealth, jobs and a healthier environment.
The group, which formally launches today at a public event at one of the greenest buildings in North America, LEED Platinum-certified TELUS Garden in Vancouver, will channel the best new thinking to advance issues from sustainable infrastructure development to the scale up of clean technology.
Smart Prosperity leaders have committed to put their own shoulders to the wheel to make this progress, pledging, for example, to convene people from all sectors around solutions, and to communicate those solutions broadly to governments, businesses, and communities.
"We have two critical innovation opportunities in Canada right now. One is to enable our traditional industries to reinvent themselves in order to compete in a low-carbon economy. The second is to build capacity for the emerging clean tech entrepreneurs, who are going to be the economic engines of this country" said Annette Verschuren, Smart Prosperity co-chair; CEO, NRStor; former CEO, Home Depot Canada.
His thoughts were echoed by Lorraine Mitchelmore, Smart Prosperity co-chair; Former President and Canada Country Chair, Shell Canada. "I think Canadians are ready to take on this challenge and become leaders in this space," she said.
"To excel in an evolving global economy, we need to make generational investments in our country that will future-proof our cities and improve the way Canadians live, work, socialise and serve their communities in our dynamic digital world." —Darren Entwistle, Smart Prosperity leader; President and CEO, TELUS
Facts
Smart Prosperity proposes five major actions to accelerate Canada's clean economy transition:
– Accelerate clean innovation across the economy
– Boost energy and resource efficiency
– Price pollution and waste
– Invest in advanced infrastructure and skills
– Conserve and value nature
• Canada's clean-tech sector now employs over 50,000 people and our stock exchange hosts more clean tech companies than any other country in the world (Analytica Advisors 2015).
The global clean-technology market is expected to exceed $2 trillion in size by 2020 (UNEP 2013).
• Over the next 15 years, $90 trillion in new infrastructure investments will be required around the world to achieve a global low-carbon transition. (Global Commission on the Economy and Climate 2014).
• Canada has the significant opportunity to make progress on water, resource and energy
productivity to keep pace with peer countries (OECD Green Growth Indicators 2014).
• Improvements in energy and resource efficiency represents a US$2.9 trillion economic opportunity by 2030 (McKinsey & Company 2011)
• More than 85% of Canadians strongly support enhancing Canada's reputation for clean manufacturing and major changes in our energy use and waste (Abacus Data 2014)
For more information about Smart Prosperity visit smartprosperity.ca