By Marc Stoiber
Recently, I was discussing new speech topics with an agency that books some of my keynotes.
Several topics piqued their interest. But when I mentioned bootstrap marketing, they lit up like a Christmas tree. Bootstrap is back with a vengeance.
I've been helping small companies bootstrap their marketing for years. It's fun, invigorating work that drives results. And if you put the occasional clanker out there, it's generally easy to abort and try a different tack.
I wanted to share a few tricks of bootstrap marketing with you this newsletter. I hope they help.
I also wanted to share the news on my freshly launched podcast, give a shout out to someone who did an incredibly comprehensive review of my book Didn't See It Coming, and answer some of my reader questions.
Normally, rattling off government statistics is no way to launch into a story. In fact, it usually finishes you before you get started. But these ones are eye openers.
In 2012:
98% of businesses in Canada had 1 to 99 employees,
70% of Canada's total private labour force worked in small business,
Small business accounted for 78% of all private jobs created.
Given the continued explosion of startups and implosion of big corporate jobs, these stats have undoubtedly increased in the past 3 years.
Small-to-medium-sized businesses (or SMB's) won't pay for a Superbowl commercial or double page spread in the New York Times. Unless of course they're a dotcom startup with billions to spend and no apparent need to do anything with marketing except tell jokes and get their name out. Oh wait, that was one bubble ago.
Snap back to reality. Given the plethora of free or cheap tools enabling SMB's to do everything from organize their online messaging to create podcasts, the new rule is DIY marketing. Or, given the general grooviness of tech lingo, bootstrap marketing.
Bootstrap marketing is fun. Done well, it's deadly effective. And done badly, it's a cheap way to learn what doesn't work.
During my stint in big advertising, I used to do tons of it. While we were waiting for our gargantuan packaged goods / car / pharma clients to finally approve our ads, we'd busy ourselves doing fun, nearly free work for the local deli or gym.
The great news is, fantastic bootstrap marketing is easy to do. If you pay attention to the following.
Know Yourself
Bootstrap marketing doesn't start with dreaming up a cool idea. It starts with dreaming up a cool idea that will enhance your brand. In order to do that, you need to know what your brand is.
More important, you need to know what consumers appreciate about your brand.
There are a number of exercises I developed to help my clients get to the heart of their brand. In the spirit of bootstrapping, I also created this free workbook that helps you do the same. Try it.
Know Your Territory
I like to tell the story of the natural health and beauty chain I helped launch. Although we were all about bootstrap marketing, our approach was scattergun. Social media, flyers, ads on diner placemats, a mess.
Then, one day, I paid closer attention to the massive parking lot in front of our store. Cars were constantly flooding in, stopping at the grocery store at the opposite end of the lot, then flooding out.
My solution was to pass out free samples of our products, stapled to funny postcards – the key being 'pass out', not slip under windshield wipers. The cost was about $100 for a hundred cards. Combined with the one-on-one way we delivered the cards to people getting into their cars, each hundred cards turned into about $1000 in sales. Not bad for a few walks around the parking lot.
So take a step back. You might be missing wonderful ad opportunities right under your nose.
Be Creative
If your idea of bootstrap marketing is folding your Sale flyer into a paper airplane, spare us the torture.
Great ideas sell. So use your imagination. And for goodness sake, test your idea out on a dozen random people before you head to the printers or programmers.
I used to simply draw my idea onto a piece of copy paper, then just show it to people. No explanation, no excuses for my terrible artistic abilities. If they laughed, the ad went to press. If not, back to the drawing board.
Make The Medium Your Message
The beauty of bootstrap is going guerilla.
Take a look at these manhole ads. Each of them hijacks a piece of urban design, and gives it a twist. Genius.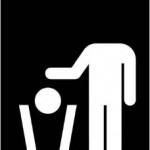 Marc Stoiber is a brand consultant, entrepreneur, and writer. He has worked in the corner office, the basement, and at coffee shops around the world. His work – even the legitimate stuff clients paid for – has been recognized by virtually every international industry award for advertising and design. You can find him at www.marcstoiber.com