By: Dr. John D. Wiebe
Long recognized for its scenic beauty and quality of living, Vancouver is now being recognized for its potential as a global maritime hub. It's an opportunity that should not be wasted.
It has long been something of a paradox that Vancouver — Canada's gateway to the Asia Pacific and home to one of the largest and most active ports on the west coast of the continent — is not viewed by even its own residents as a maritime city.
When we think of cities like Singapore, Tokyo, Oslo, Hamburg, Shanghai, Rotterdam, London, or Hong Kong, the association with shipping and maritime commerce is immediate.
But despite Vancouver's obvious proximity to the open ocean and the massive scale of its highly visible port-related infrastructure, the city has not ranked high among the exclusive club of global maritime business centres where successful shipping companies are headquartered or from where they manage the global movement of cargo, capital and commerce.
But that could change if the key players in the region's maritime community come together to pursue an opportunity that should not be wasted.
 A report released recently at a major international shipping event in Singapore by Menon Economics, an Oslo-based based research institution that publishes a biennial overview of the leading maritime capitals of the world, added Vancouver to its 2017 Top 30 List.
"No city has a more attractive policy framework than Vancouver. Its strategic location on the Pacific Rim, its broad tax incentives for shipping and auxiliary services, and its attractive living conditions could help Vancouver rise in the rankings of maritime cities.
But realizing the substantial economic opportunities associated with maritime commerce will require more effort on our part to develop our capacities in maritime finance, banking, insurance, legal services and international ship brokering — the backroom activities that move the cargoes that move the ships.
Herein lies the essence of the Vancouver paradox. We are one of the world's largest gateways for the movement of cargo, but are not recognized as a global centre of maritime commerce.
What is made clear in the Menon report is that it is not the scale of physical infrastructure or the volume of sea borne throughput traffic that makes a city attractive to international shipping companies.
Rather it is ready access to those supports that enable such companies to be competitive in the highly volatile world of international shipping. Namely access to capital, availability of human talent and the specialized support services needed to operate profitably.
It's a two-way street. To attract international shipping companies, a city must offer the supports those companies need to become or stay competitive.
In addition to strategic location, these include a favourable political framework, proximity to large, demanding customers, the pool of well-educated talent, the open flow of knowledge and ideas, relationships built on common trust, a sound and predictable legal framework, specialized universities and research institutions, and an abundance of technical and professional service providers.
Vancouver has many of these ingredients, notes Kaity Arsoniadis, who runs the Vancouver International Maritime Centre (VIMC), a jointly federal and provincial funded agency that seeks to build awareness globally of Vancouver's potential as a maritime hub.
"The future of global shipping is tied to Asia's resource demands and Vancouver offers the closest and most diversified port in the North American market," Arsoniadis said recently.
But as noted in many of the Centre's background studies, the international shipping industry is undergoing a profound transformation. To become more attractive to companies in this sector, Vancouver will have to make available the knowledgeable workers, the business networks and the support services these companies will need to keep pace with the changing global marketplace.
The availability of highly talented people with ocean-going shipping experience capable of managing the highly complex back office activities of ship brokering, cargo management, insurance and financing is a critical determinant of success in attracting new business.
These skill sets are in very short supply globally and the competition to attract such talent is fierce. That is why one of the critical first steps needed are measures to improve our capacity to recruit skilled workers from abroad, many of whom would gladly relocate to Canada. We also need to step up the training and education of homegrown talent for careers at sea, often a stepping stone for many well-paying shore-based jobs.
One of the factors that makes cities such as Oslo, Hamburg, Singapore and London such important maritime capitals is the presence of reinforcing clusters of supporting services and talent.
For example, London's long history as a maritime commerce centre, for example, derives in large part from the local proximity of offices of ship owners, flag states, class agencies, brokers, insurers, lawyers and other players, which in turn creates a vibrant cluster of professionals in the industry notes the Menon report.
While Vancouver does have a sub-strata network of professional and technical resources that support maritime commerce in these areas, it is nowhere near the scale available in centres such as London, Rotterdam, Athens, Shanghai, Hong Kong or Singapore. Our competitiveness will hinge on such factors as quality of life, taxation levels, availability of trained and well educated workers, flexibility in immigration and labour mobility, all of which are of growing importance in this highly-specialized sector.
The importance of attracting these types of enterprises cannot be understated. As noted, players in the maritime economy tend to bond in a "cluster" or a "community of practice".  A critical mass of shipowners, for example, can attract other maritime related businesses, which in turn can better serve all participants in the network.
This "cluster" effect includes law firms, banks, financial institutions, insurance brokers, ship-management, chartering and brokering specialists, as well as education and training service providers, all of which create a strong "multiplier effect" creating high-paying, long-term jobs.
A GLOBE Advisors analysis has found that every dollar earned in senior management occupations in the international shipping community generates an additional eight dollars of economic benefit in the British Columbia economy.
These are not insignificant numbers, and reflect one of the reasons why both levels of government are actively supporting the work of the International Maritime Centre in attracting international shipping companies to establish, expand or retain shipping operations on Canada's West Coast — and building a strong maritime sector in British Columbia.
The Centre's success in attracting newcomers such as the shipping companies AAL and Greystoke Marine Management and a leading maritime law firm, Norton Rose Fulbright could be just the beginning of a trend.
But realizing this opportunity will only happen if the many stakeholders in Vancouver's maritime community work together under a concerted, coordinated and far-reaching strategy to promote the sector and to shape Vancouver's Maritime Future.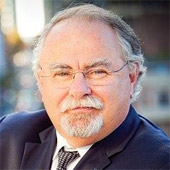 Dr. John D. Wiebe is President and CEO of the GLOBE Group of companies.
This article was first published in the  May 14, 2017 edition of the Vancouver Sun.